Post by Lord Kovu on Jul 22, 2017 1:41:48 GMT -5
Character Name Here
Ship Flag
ARMORED -
UNMASKED -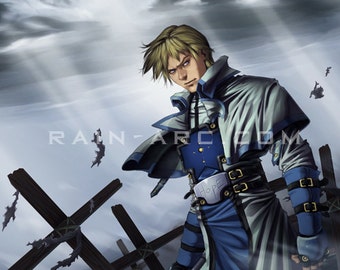 Name:
Shade until his elements awoken.
Lord Kovu
Commander
Volt (Goes by Lord Kovu to anyone that doesn't know his real name.)
Race:
Elemi
Gender:
Male
Height:
5'10
Weight:
165
Hair Color:
Blond
Eye Color:

Blue
Identifying Markers:
His unique battle armor. Long blond hair when out of his armor.
Personality:
Kovu is a cold and ruthless being. He isn't known for showing much mercy at all. Feels that it lowers his authority among his followers. He is willing to kill anyone and everyone in order to gain whatever it is that he would like. He was once a compassionate and caring man, but those ways appear to be lost among the stress of time. He is quickly irritated by insubordination and won't hesitate to remove the being responsible for it. He places a front for all to see. He wants everyone to think that he truly cares about stealing things from other, but in reality it's just to keep him from dealing with the thoughts of depression and self doubt that weigh on him over never feeling like he could amount to be the person everyone broadcasted on him. He tends to drink a little to dull the thoughts.

Likes/Dislikes:
Drinking, Killing, stealing for the most part, leading, controlling, obtaining, becoming stronger, fighting, his battle armor, playing God, feeling like he is worthy.
Feeling unworthy, not having money for whatever he is feeling at the very moment, losing, the thought of failure, death, other Elemi, they remind him of who he isn't.

Aspirations:
To never fail

Homeworld:
Space
Appearance:

Volt has an innocent and harmless look to him when he is with out his battle armor. He stands around 5'10 with matching weight of 165 pounds. He doesn't have one of the more aggressive looking types of body for his field of work or position of rank. He body is well trained and finely toned. Kovu's blue eye's are covered by his medium length blond hair. Forms of over whelming stress and anger can cause lighting to jolt around his body. When out of his armor Kovu wears two different suits, is his old commander uniform that is a primary white with a touches of blue in it. A long duster cloak and a belt buckle that has hope written on it. The belt is to give false hope to any one that has become his prisoner. He second attire mimics that in the design of his old commander suit, but different in color with a mixture of light and dark brown, along with an orange.
When Kovu is with out battle armor he dawns his side kick sword known as "flicker". The name comes to how fast Kovu is with it, making his attacks seem like a flicker when using it. The sword is long and narrow with a block hilt so that it's chance of protecting his hands is only that much greater.
Lord Kovu's Battle armor is an armor that he has dawned since becoming a pirate for many reason's. One of them is that he can remain hidden from the Elemi space fleet. If they where to know that Kovu was actually Volt, then they would start hunting him, and that's just something isn't up for. The other is to create an intimidating imagine of fear, making it so that all that he encounters and most of his crew believe that he is a different race than Elemi. His armor is all black. His feet are arched up making him appear to be taller, and the toe's come to two points, or claws. His shin's and thighs are covered on all sides along with groin with a connecting piece that runs all up over his chest and to his neck.
The armor is dawned by a purple mask that resembles an alien with look pointed purple horns on the back, and short black ones on the front. It's all covered by a large black cloak.
Backstory:
Not many Techs as of this moment, since I am so new and lost to it all. I don't want to pick anything just yet.
Techniques
Offensive
Offense Tiers



Technique Here


Description Here

[Damage/Effects go here]




Technique Here


Description Here

[Damage/Effects go here]




Technique Here


Description Here

[Damage/Effects go here]



Technique Here


[Description Here

[Damage/Effects go here]


Support Tiers



[PT-1] Ki Sense:

Allows to have a general notion of people's PL as long as they are in the same region.


[ST-1] Flight:

The ability to manipulate one's ki so that they can levitate from the ground and even fly.




Technique Here


Description Here

[Effects go here]




Technique Here


Description Here

[Effects go here]

Unique Tiers
N/A
Inventory:
500 Zeni
Old Spacepod
History
Shade was born into a military family. His father and mother both served proudly in the Elemi services, so it was like his unwritten destiny that he too would join on day. He was born with out his element like all Elemi, but his father started seeing it as an issue when Shade had became an teen and his ability still hadn't awoken. His father never said it but Shade could always feel it. The disappointment that he still hadn't awoken his element. It was from that moment that Shade decided that training would be his primary focus. He might not have the power that his peer's had, but that didn't mean he couldn't tap into the rest of energy that all bodies shared.
Shade's elements never awakening only played in his favor in the long ran. Spending many years training his body was more than ready to embrace his new features. During his early academy years it finally happened. Lighting engulfed Shades's body. Earning him the name Volt. From that point on his power only grew quicker, allowing him to become stronger and at times much more reckless. This recklessness put him on the path of taking some of the more dangerous missions, and when passing them placed him on a track of excellence, when then lead to him getting promoted faster than most.
He later became the Commander of a fleet which was given the highest honor. They was given a mission to attempt to restore their home world.
Roleplay Example:
His back crashed into the wall as the guards flung him in to the very white lighted cell. The cement behind him cracked from the impact and his body slow slid down until he was sitting with his knee's up and his fore arms resting on them. Sparks slowly jolted around his body as he remained resting and gazing up to the guards before him. "Sit there and don't even think about trying anything!" The cell door closed behind them as the both went to each side of the door to wait. "Well well, what have you gotten yourself into now Kovu"

Kovu's head slightly turned as he looked up to the lights that were dimming down as a figure entered into the room. The figure was tall and broad at the shoulders with a chest that looked as if it was sculpted out by the gods of destruction. The lights gave a small flicker once more before returning to normal. "On your feet" The hulking figure demanded. "Rather comfortable down here hoss" Kovu replied, which then triggered hulking figure's downward movement that then caused the wind pipe of of Kovu's to be shut as the man's hand wrapped around it. With an even tighter squeeze he then began to lift Kovu's body from the floor then followed up by throwing him into a chair. "Disregard my orders once more and i'll cuff you." The hulking man wasn't worried about Kovu being uncuffed cause he was a commander of the Elemi space fleet, he was more than confident in his ability to take down any enemy in a one on one, but little did he know that Kovu once held that very same rank. "Tell me why you're here" the man bellowed out.

Kovu's brow rose as his head tilted in confusion. "Ummm....Because you guys caught me?" He questioned in confusion as to what the man was really asking. "I've heard of Kovu the Pirate lord. I know that catching you isn't an easy task, yet today was one of the easiest captures I have ever witnessed. So why are you really here?" Looks like they're done on to me....time to improvise in order to stall Kovu's hands dropped down around his waist so that his fingers could run across the rim of his belt until he found the small communicator. He then pressed in on the button so that his crew could hear what was happening and start making adjustments. Kovu then propped his feet up on the table and leaned back in his chair while gazing to that commander.

"So you want to know why i'm here? Where should I begin. You see my life wasn't something that fancy or relevant to anyone until a certain point. So I'll start there" The commander held his hand up to pause Kovu. "Not looking for a history life story just -" Kovu then interrupted him. "Not so much of a life story as it is a history lesson as to why I am here today" His hand rose to his mouth so that he could prop his chin up on it. "So I'll speak the basics until the important stuff comes up. I was born and Elemi" The commander's eyes narrowed in on Kovu as he began to look harder into him. With further examination he could then tell that the purple head wasn't a head, but very well constructed life like armor. "I see....go on" He said now a little more intrigued by what Kovu has to say.

"I thought so." He said with a chuckle, and then continued. "So, I was born an Elemi. Remained grey much longer than most.....all the way until I was in the space academy. Was picked on a lot, but I am thankful for that now, cause that's why I started training at such a young age. I had to learn how to be strong in order to defend myself" The commander leaned towards Kovu. "What was your rank?" Kovu's hand rose to pause the man. "In due time, we'll get there" The commander leaned back in his chair and motioned Kovu to go on. "I was a late bloomer so to say, a very late bloomer. But sometimes that's how it goes, cause when my powers finally showed them self my body was more than ready to embrace them. One could say that my greatest weakness turned out to be my greatest strength." Kovu was rather pleased by on how things where going, but he was after all using the Elemi warrior honor trait to his advantage. He knew that as long as he wasn't being hostel or to disrespectful then the commander would allow him to carry on, not to mention that he was already full of himself and thought he could take Kovu so that only added to the situation.

"You see after training so long with out my elements I was already much more powerful than anyone ever expected me to be. So climbing through the ranks only took me a few years. I did have to embark on some rather crazy missions to fast track my promotions, but that's nothing of importance. It took some time before I was graced with the honor of having the rank Commander bestowed upon me, but when I got it I quickly became one of the best." Kovu then paused as he started watching the gears in man's head start to turn. He was desperately trying to figure out who this man was. "It's time to remove that mask" Kovu's feet pulled from the table causing his chair to fall forward. "What's the rush? I'm done your prisoner." he said with a persuasive tongue. But the commander wasn't having it as he rose for his chair. "I am Commander Havok! And You'll remove your mask or I'll remove it for you!" A sigh left Kovu's lips as his hands rose his head. "I see that mutual respect has flown out the window around here" he said as a click from his helmet echoed the room.

His eye looked over the expression of Havok's as he noticed the man was in deep thought about what he had said, so he decided to test his luck by removing his hands and leaning back once more. "You see commander Havok I quickly rose to the rank once my powers manifested. I took over a fleet in two years time and became one of the best, but becoming the best is where my downfall started." Havok's brow narrowed and his arms crossed as he sat back down. "Go on then....." He said with a scowl. "I was among the elite and the elite was among me. It was that very thing that lead me to my darkest point. Because of our recognition we was tasked with what is one of the highest mission, well.....the highest." Havok leaned forward and interrupted. "You mean -"
"Yes. It was an honor, I just didn't know that it would cripple me. To be given a chance to return to our home world and attempt to come up with a solution! It wasn't what even of us ever worked for but yet it was given to us! You could feel it! The excitement among EVERYONE on the ship! We all took it with pride! Delighted to have a chance to become saviors! We relished in the thought, that was until we was there for three years and with out even the slightest advancement. Not a single idea that we had come up with proved to make a dent."

Kovu's body leaned forward, and then into a slight hunker. His elbows rested on his knee's as his hands clasped together.
"Then depression started setting in, or at least it started showing itself with in the fleet. It had already over taken me. The stress of returning back empty, the roots of depression deep in my heart. I couldn't take it back to them. The failure....No I couldn't be known as that Elemi, the're to many of them in our history already." Havok's eye's widen as it all started to piece together. "Wait that means your" Both chair flung back as both of the men quickly rose to their feet. Kovu already prepared to make his attack as much quicker then Havok. His hand reached out and grabbed Havok's, quickly turning it upside down. Is palm faced up and Kovu held him in a wrist lock. Havok started to cry out in pain but lost all breath as Kovu's hand crashed into his sternum causing his body to crash into the wall. Havok waited for the guards to show up they never came. What's happening here.... he thought to himself while holding his wrist to his chest. "Yes. I am commander Volt." "But we thought you and your whole crew died" Kovu's helmet clicked back shut. "And that's what I wanted everyone to think. I didn't want to be perused by the Elemi army, so.......I blew up my ship and everyone on it." He said with a shrug. "Have you truly fallen that far?" Havok questioned with disgust. "And a pirate! Why! What is wrong with you! Just cause you couldn't-" "You can fail at what you don't want, so you might as well do what you love. And I love power, and in order to get that I train, steal, and kill."

Havok's good hand pushed him up off the floor so that he could be standing once more. "Then why are you here?" Havok then paused has it was now clear to him. "You got yourself caught over a myth" He said with a bellowing laugh. "It's not real, or at least not out of prototype stage yet! You thought that we had perfected the item to make our elements stronger! You're all out of luck!" "I've been a pirate for eight years now. I never steal based on luck. Haven't you been wondering about your guards?" The ship began shack uncontrollably. "Commander Havok" Rang over the intercom. "That disruption seemed to have been from an explosive from with in the ship. His eyes widen as he looked to Kovu in confusion. "How did you get someone in here!" Kovu tapped his belt. "I lead these ships. You think I don't know how to hack the systems? And it's not just one person. I came for the enhancement cube. Wither it's finished or not. I'll be taking it."

"OVER MY DEAD BODY!" Kovu smirked at Commander. "That's the plan. You and this whole ship" Yet another explosion went off, this time the cell door opened though. "Commander, you now know my story, it's been a pleasure but I have a task to complete." Kovu started out the leaving Havok in disbelief as he felt another explosion. "All hands on deck! WE'RE UNDER ATTACK!!!" But little did he know that his comms had done be shut down. The cell door locked as Kovu exited. "Enjoy you're stay Commander. You won't be alive for much longer"

Kovu quickly moved through the carrier to his desired location and he done know the location that he was heading. Along the way he seen Elemi soldiers littered across the floor. "Good, looks like the team is done taken care of everything."
"Lord Kovu!" Gadget, one of Kovu's members called out. "We've manged to get the cube from it's holder but it would seem that the cube is what was actually powering the ship! We've got to go!" Kovu's had rose to catch the cube as it was tossed to him. His eys scanned it over as he could feel the power surging through it. "It seems that the cube can't enhance my abilities but it's a great source of energy to power the ship."

"Lord, lets go!" The towering Kometzu called out as he motioned the two to come on. Kometzu was the strength and back bone of the team, always removing any unwanted obstacles out of the way for Kovu. "AUGHHHH!!!" Gadget cried out as spear of iron shot through the back of his thigh and through the metal floor in front of him, pinning him in place. "My lord!" Gadget called out as Kovu turned to face the scream of pain. "Help me!" He said with a stretched out hand of hope. But all the hope would come to an end as to more spears of iron shot through him. One through his chest and another stomach.


Kovu's hand rose to release energy into the ceiling so that he could cut off the path. Turning back to Kometzu. "Let's get go.!" The two of them made their way through the fleet ship until reaching the boarding point that was forced into the side of the ship from Kovu's ship. Kovu boarded first but Kometzu screamed out in pain as a jolt of lighting shot out of the right side of his chest. Kovu quickly turned around in reaction to the scream to see what was going on. As Kometzu fell to his knee Kovu's eye locked onto Commander Havok's as his hand was stretched out with sparks of lighting dancing around his hand. "I'll hunt you down Volt, And I will kill you."

Kovu unsnapped his helmet then removed it. "You won't make it past this day, Commander Havok." He finished his sentence with a condescending tone. Just as Kovu started to turn away from him Havok released a bolt of lighting from his palm with intent to kill. Kovu quickly reacted to the action by raising the cube up to intercept the lighting. The cube absorbed the energy. Kovu gave a smile as he turned away. "Oh, there is a bomb where the cube used to be. Enjoy that." Kovu traveled by to his ship through the breach and told commanded his crew to take leave.


"Ha, Kovu that was your best one yet. Little sloppy." Kovu fell to his back on the deck of his pirate ship. His eyes gazed at the stars above as his body took rest. That was until he could feel the energy from the cube start to flare up. He head rolled over to the left side so that he could examine what was going on. Suddenly his eyes widen as he could tell that the energy in the cube had became very unstable. "OPEN UP SECTOR 45 ON THE CONTAINMENT FIELD!!!" He screamed out as he was throwing the cube in the direction, but it didn't matter. The command was given, but the reaction time was to slow. The cube crashed into the containment field and sent an electrical surge across the whole field that then traveled down in the the ship.

Already on his feet Kovu only stood and laughed as he could done tell what was going to happen next. The energy would over take his ship and destroy it and everyone on it.

"Well.....Look like this is it.....Ah well, it was worth it." Kovu held his hands out as he was prepared to embrace his death.

Note: This will be my RP starting point, since we can't start with ships of pirate caliber lol


Reward Requested: (PL/Zeni)